Debashree Sengupta
(Project Scientific Officer, TIFR Hyderabad)
What do people do during a PhD and what is the meaning of research? – a young girl curiously asked her teacher. I am not sure about the immediate answer she received, but let's ponder upon this question for some time. Apparently, there seem to be two separate realms on earth, when we consider advanced technologies, inventions and breakthrough research initiatives as one sphere, and the non-scientific general public including school-going young children as the other sphere. These two spheres connect sporadically with each other through science curriculum and textbooks, but then, are these connections enough for bridging the gap between high end research and community awareness? Certainly not! Science education and outreach is the enterprise that works for dispersing the concentrated scientific knowledge from the restricted spheres of Research institutes and universities to the general community and the school-going children.
At TIFR Hyderabad, there are two major initiatives taken under Science education and outreach program, with a future ambition to bring about significant change in the scientific temperament of the society. The first one is the 1) Deep learning initiative, which includes 3 sub-events taken up with schools of the Telangana Social Welfare Residential Educational Institutions Society (TSWREIS): a) Foldscope mission, wherein we trained teachers and students from 10 different TSWREIS schools, for using foldscopes (low-cost paper microscopes designed by Prakash Lab at Stanford University) for their regular Science curriculum as well as for project purposes. This initiative encouraged students to actively participate in a lab practical by getting hands on experience of using a microscope. Two workshops were conducted for helping the teachers to clarify their doubts, as well as troubleshoot the common issues faced during the usage of foldscope. As the tagline for foldscope goes, these young students along with their teachers are 'magnifying their curiosities' consistently, by posting their observations at https://microcosmos.foldscope.com/?tag=tswreis. Volunteers of the program post their observations at https://microcosmos.foldscope.com/?author=1733. The next sub-event is the b) Saturday outreach, which is a continuous effort by the TCIS and UoH volunteers, to build up a strong concept-based learning scenario among the young students and replace the traditional text-based rote learning. Under this program, volunteers visit three nearby TSWREIS schools every Saturday and teach subjects of their choice, particularly Science and Mathematics, but occasionally include English and Social Studies. Under concept-based learning, we also encourage children to open up their minds for critical thinking and questioning attitudes. It was surprising to find the array of questions bubbling up from these young minds, during our interaction with these students. The final one is the c) Meet a Scientist event, which involves direct face to face interaction of school students with eminent scientists from reputed research institutes and universities of India. Students get a chance to know the world of cutting edge research through this event and are free to ask questions and clarify their doubts/misconceptions, regarding various natural phenomena and day to day observations scientifically.
The other major initiative is the 2) 'Sawaliram' project, which is collaborative between TCIS and Eklavya (an NGO located in Madhya Pradesh) and has been inspired by the students' questioning during 'Deep Learning' sessions. As a part of this project, an open source, multi-lingual, web-based repository of students' questions is proposed. This repository is meant for encouraging and highlighting the questions from students belonging to marginalized sections of the society, who do not have access to facilities like computer or internet. So, there are multiple lines of workforce involved in this project starting from the core members, who are involved in building up and maintenance of the website, inputting and curating the data, analyzing the data and also coming out with user friendly interpretations of the analyzed data outputs. The expectation is to have a team of experts for answering the questions and another team for communicating the answers to the respective schools or groups as part of ongoing programs. This project aims to bring out the often neglected 'child's voice' to a broader perspective of curriculum designing and policy making along with encouraging children to learn conceptually by confidently asking questions to fuel as well as satisfy their curiosities.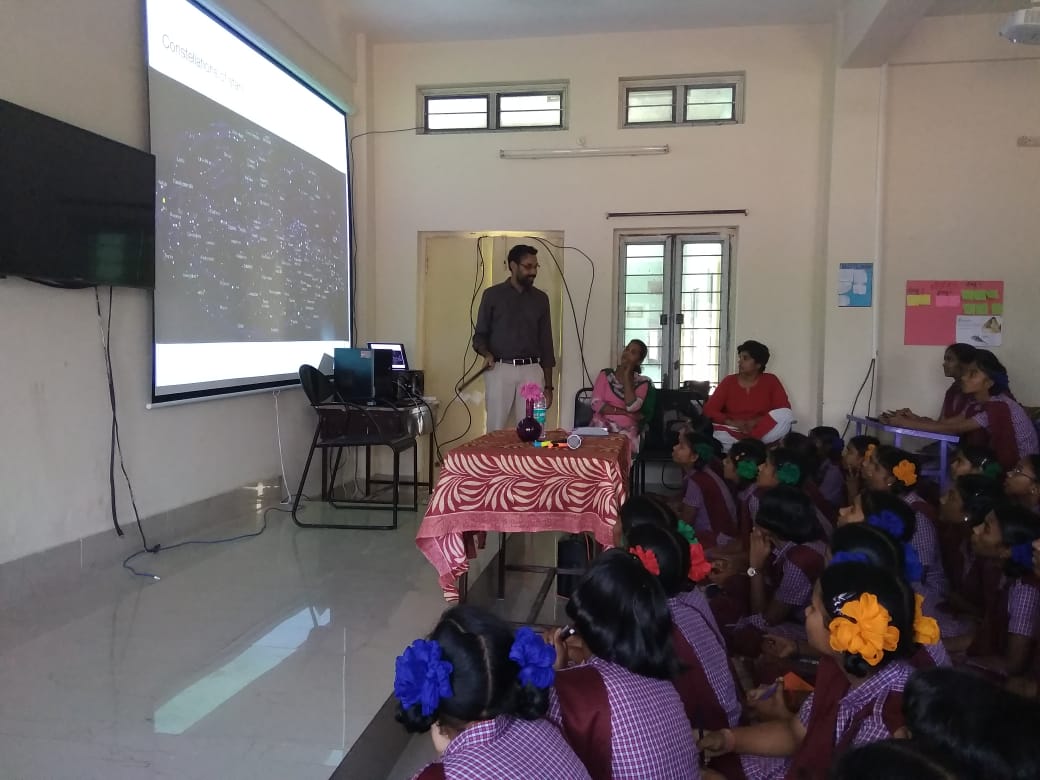 As a whole, these small initiatives taken up by TIFRH's Science education and outreach team revolve around the common goal of bridging the gap between the isolated scientific innovations and the non-scientific communities to build up a strong concept-based scientific foundation for the young intellects of our society.