News & Highlights
Congratulations Shubhadeep Pal for receiving 4th place in the final round of PSG Nanochallenge 2017 award organized by PSG Institute of Advanced Studies, Coimbatore and sponsored by STEDB (DST,GOI), PRICOL LIMITED CNSE, SUNY, ALBANY, USA, & PSG INSTITUTIONS, where he has presented his innovative idea of ammonia sensor using graphene platform for high sensitivity detection, in front of an international committee. The final round selection was after the 4 step screening of the proposals and presentation looking in to the viability of the invention for possible implementation.
Congratulations Sumit Bawari for receiving Best poster Award in "International Workshop on Advanced Materials – IWAM 2017" held at Berhampur, India Organized by Drexel University, Philadelphia, USA and NIST Berhampur, India.
Congratulations Anand for receiving Indo-US postdoctoral fellowship with Prof. Pulickel M. Ajayan, Rice University, USA.
Congratulations Shubhadeep Pal for getting selected for European School on Nano Science and Nanotechnology (ESONN) – 2017 to be held at France.
Congratulations Shubhadeep Pal for receiving the K.V. Rao Scientific Society Young Scientist Award-2017 in Physics.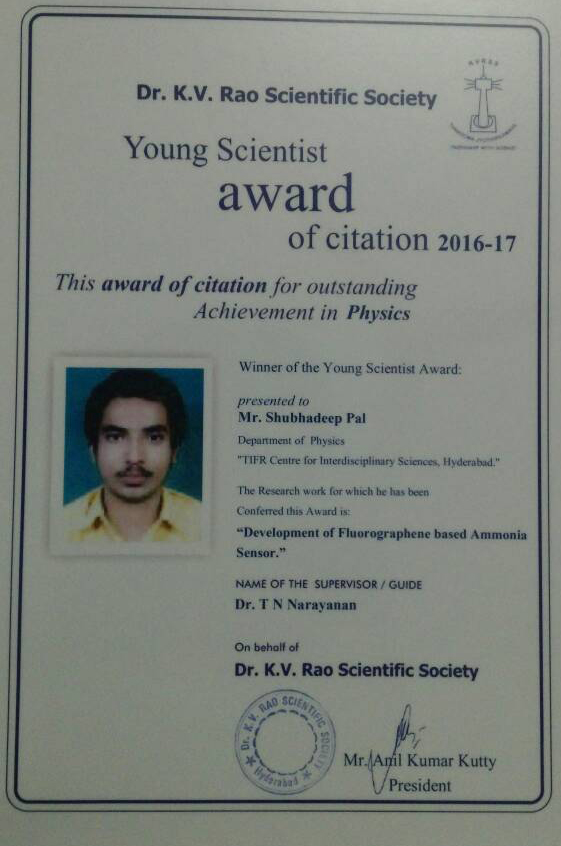 Congratulations Dr. Ravi Biroju for receiving the National Postdoctoral Fellowship and Marie Curie postdoctoral fellowship.
"Atomic layer sequence influences catalysis" LabTalk, IoP Nanotechnology [Link]
"TCIS: Ultrathin, water-repellent surface chemistry at work", The Hindu [Link]
"Spongy catalyst helps generate hydrogen fuel", Nature India. [Link]
Prof. Martin Pumera presents his top picks from Applied Materials Today, "Synergistic Effects of Dopants on the Spin Density of Catalytic Active Centers of N-doped Fluorinated Graphene for Oxygen Reduction Reaction" [Link].
Narayanan has been admitted as Fellow of the Royal Society of Chemistry (FRSC) – 2016.
Congratulations Shubhadeep and Kiran for receiving best poster award in National Poster Symposium on Advances in Chemical Sciences organized by RSC and TCIS.
"New material promises better batteries and fuel cells" SciDev.Net [Link]
"Nanosheets for imaging cells and delivering genes" Nature India [Link] "Molybdenum disulfide nanosheets – Are they safe?", Nanotechweb.org (Labtalk). [Link] , Investigating the Bio-safety of Molybdenum-di-sulfide Nanosheets for Futuristic Biomedical Applications R&D Highlights, CSIR News.
Narayanan has been selected as Associate of Indian Academy of Sciences (2015-2018).
"CSIR-CECRI Pioneering research at electrochemistry-nano interface", A. Subbiah and T. N. Narayanan, Nano digest, (India's Premier Magazine on Nanotechnology) September 2014. (Invited Article)
"Tough foam from tiny sheets" Cited in Science Daily, youtube, azonano etc.
Highlighted by Nanotechweb.org "Selective Electrochemical Biosensing Using Molybdenum disulfide"
"New Device Pulls Water from Thin Air", Featured in Science Magazine.
"Diamonds are an Oil's best friend", Rice News.
"The First-Magnetic-Nanoparticle-Free Carbon-Based Contrast Agent of Magnetic-Resonance Imaging-Fluorinated Graphene Oxide" by Y. H. Hu. Small 10 (8) 1451. (This article highlights our article on FGO for multimodality, Advanced Materials (2014)).