News & Highlights
Congratulations Dipak for receiving TIFR-Infosys Travel Grant, where he will be using this for his collaborative research with Prof Doron Naveh at Bar-Ilan University Israel
Congratulations Pallavi Thkur for successfully defending the Ph.D. (12th January 2023) thesis and receiving the degree.
Congratulations Krishna Rani Sahoo for successfully defending the Ph.D. (25th August 2022) thesis and receiving the degree.
Congratulations Anku Guha for successfully defending the Ph.D. (16th June 2022) thesis and receiving the degree.
Congratulations Nandita for receiving TIFR-Infosys Travel Grant, where she will be using this for her collaborative research with Prof Angel Cuesta at University of Aberdeen, UK.
Congratulations Rahul Sharma for successfully defending his Ph.D. thesis (23rd February 2022) and receiving the degree.
"Waiting for full charge"Shaastra (Indian Institute of Technology Madras Science, Technology, Innovation Magazine) Magazine [Link ]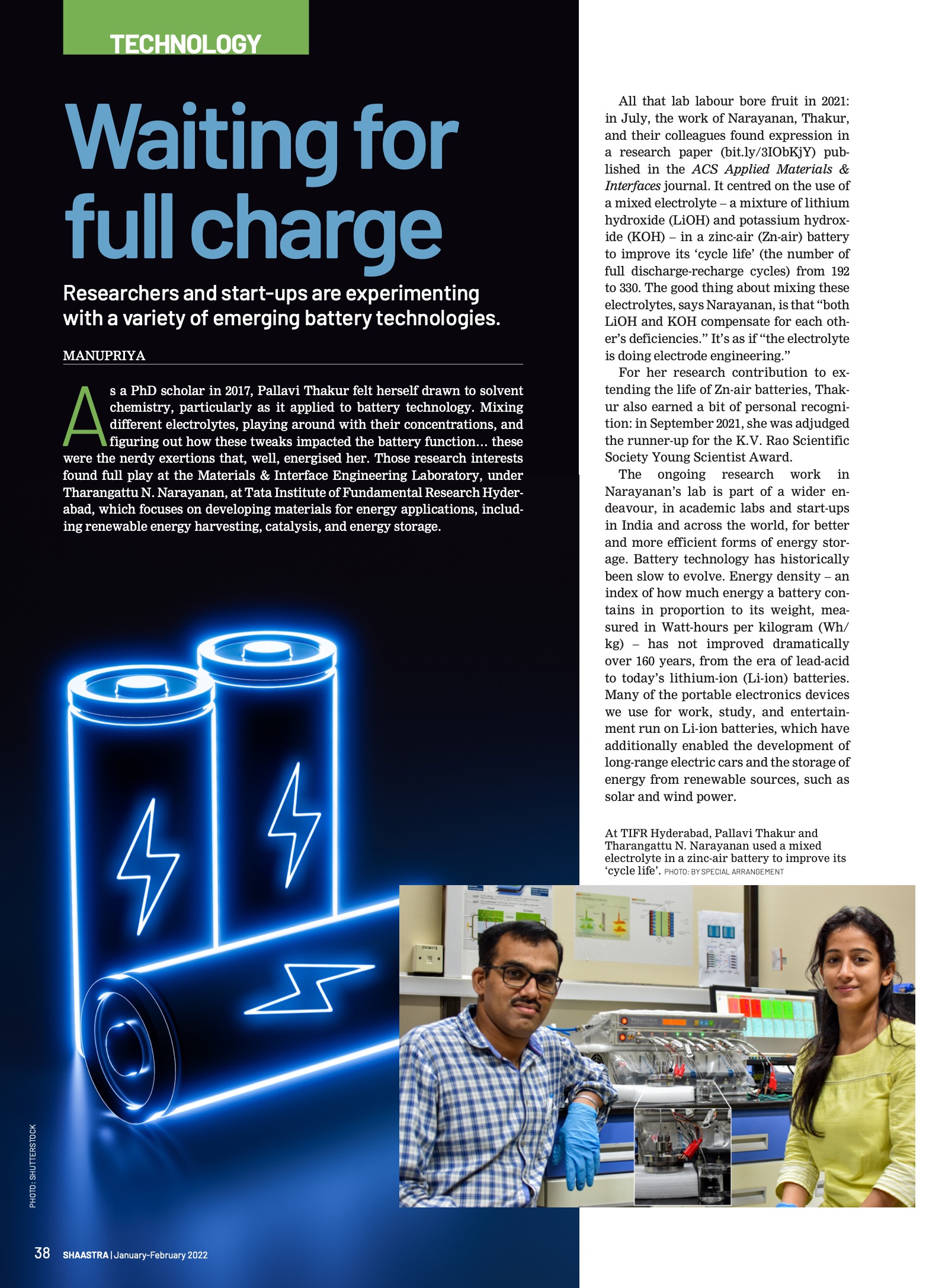 "Toward Next-Gen Photo-Rechargeable Batteries"OPTICS&PHOTONICS NEWS (OSA) [Link ]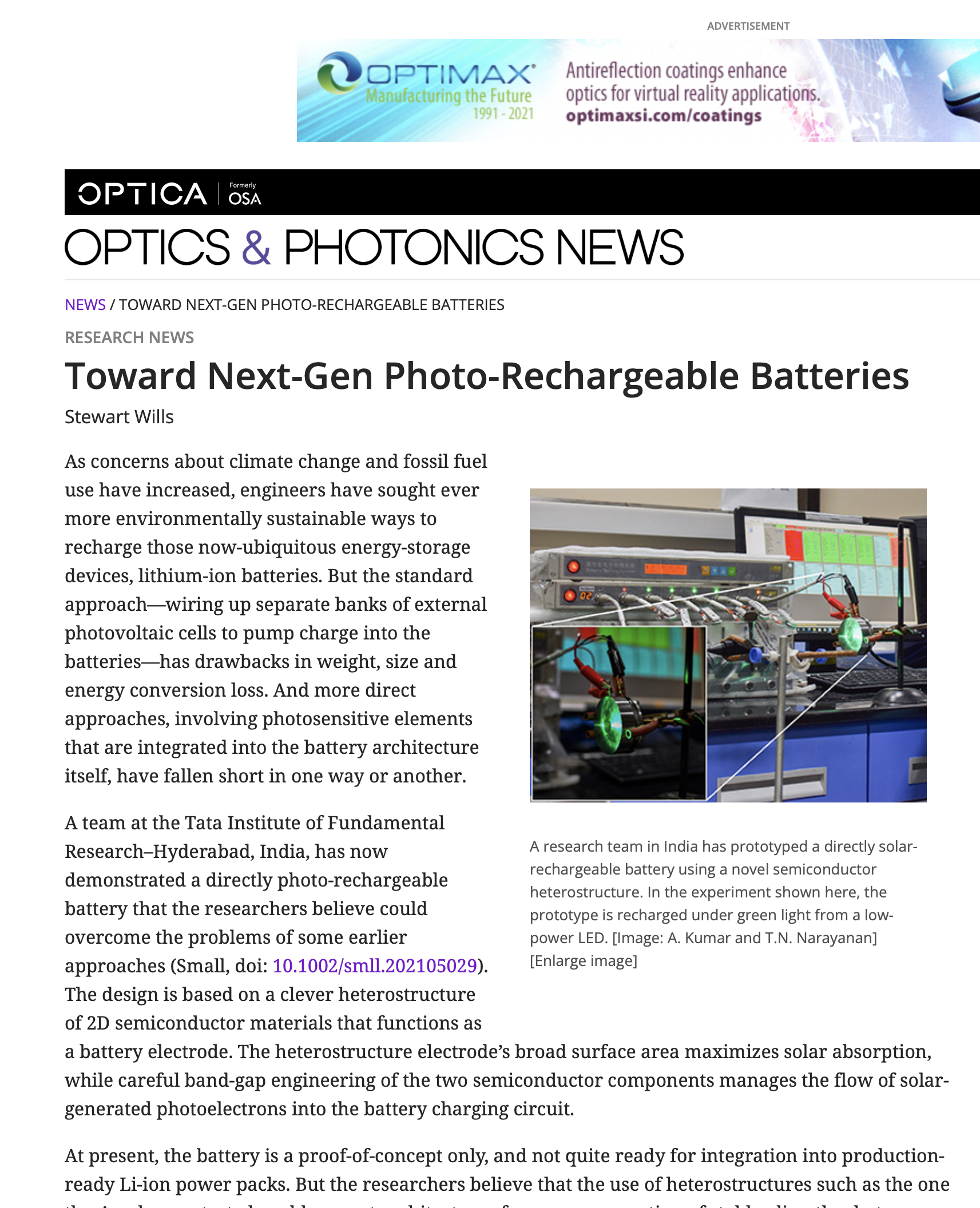 "Engineering next generation solar powered batteries"-EurekAlert [Link ] [Telangana Today ] "സൗരോർജ ബാറ്ററികളുമായി മലയാളി സംഘം" [Mathrubhumi ]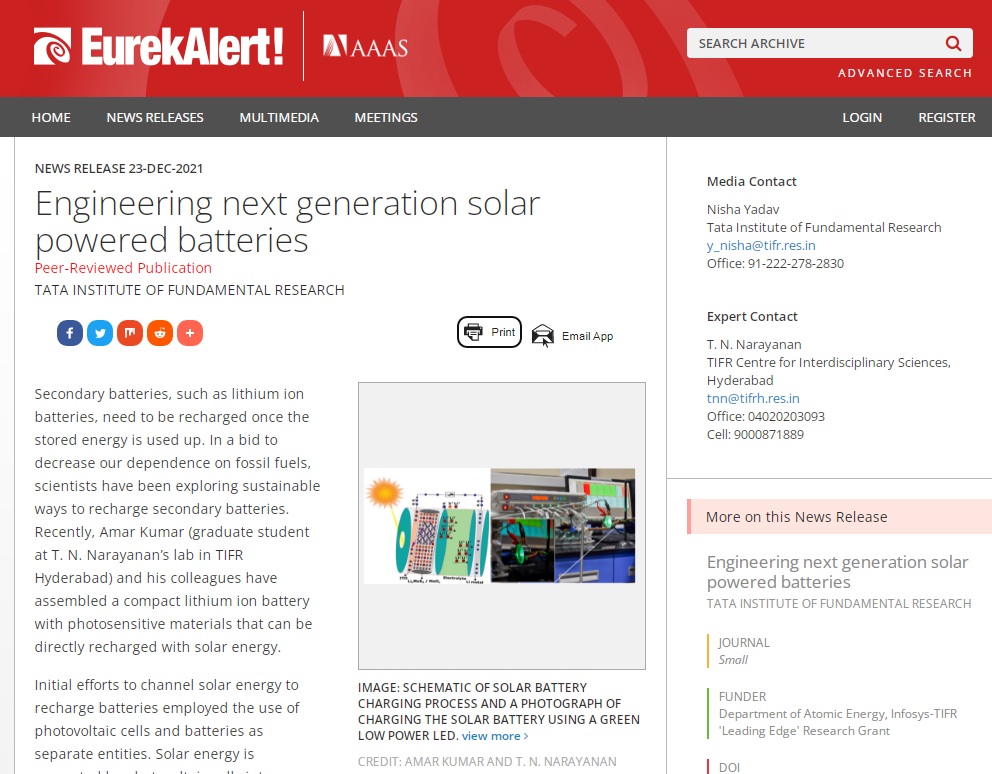 A 'tonic' that helps zinc-air batteries live longer [Link ]
Congratulations Sumit Bawari for successfully defending his Ph.D. thesis (12th November 2021) and receiving the degree.
Congratulations Pallavi Thakur for receiving the K.V. Rao Scientific Society Young Scientist Award (Second Rank)-2021 in Chemistry.
Searching for a super-thin stable photosensor. [Link ]
Prof. Prakash P. Karat Endowment Lecture – 2021 was delivered by T N Narayanan at St Aloysius College (Autonomous) Mangaluru. [Link ]
Congratulations Pallavi Thakur for receiving the best poster (talk) award in the Pan TIFR Annual Chemistry meet held during 03-05 March 2021 [Online Meet].
"Learning Science from Nature: Bio-Inspired Technologies". The talk given to the high school science teachers of Telangana Social Welfare Residential Educational Institutions Society (TSWREIS). [Talk ]
News: "Study proposes a low cost, high efficiency mask design" [PHYS.ORG] [Yahoo News]
International Online Meet: Conference on Advances in Catalysis, Energy, and Environmental Research – 2020 [CACEE-2020] Successfully Ended. [Day 1] [Day 2] & [Day 3]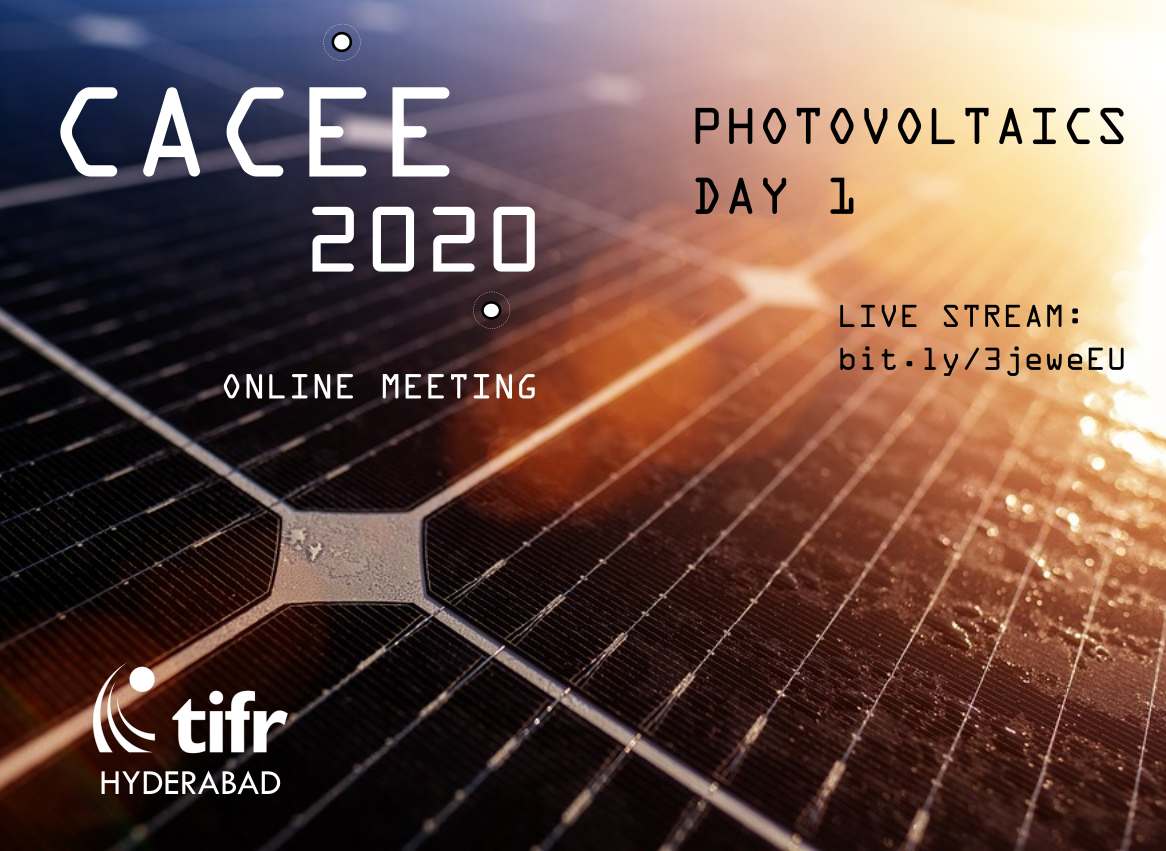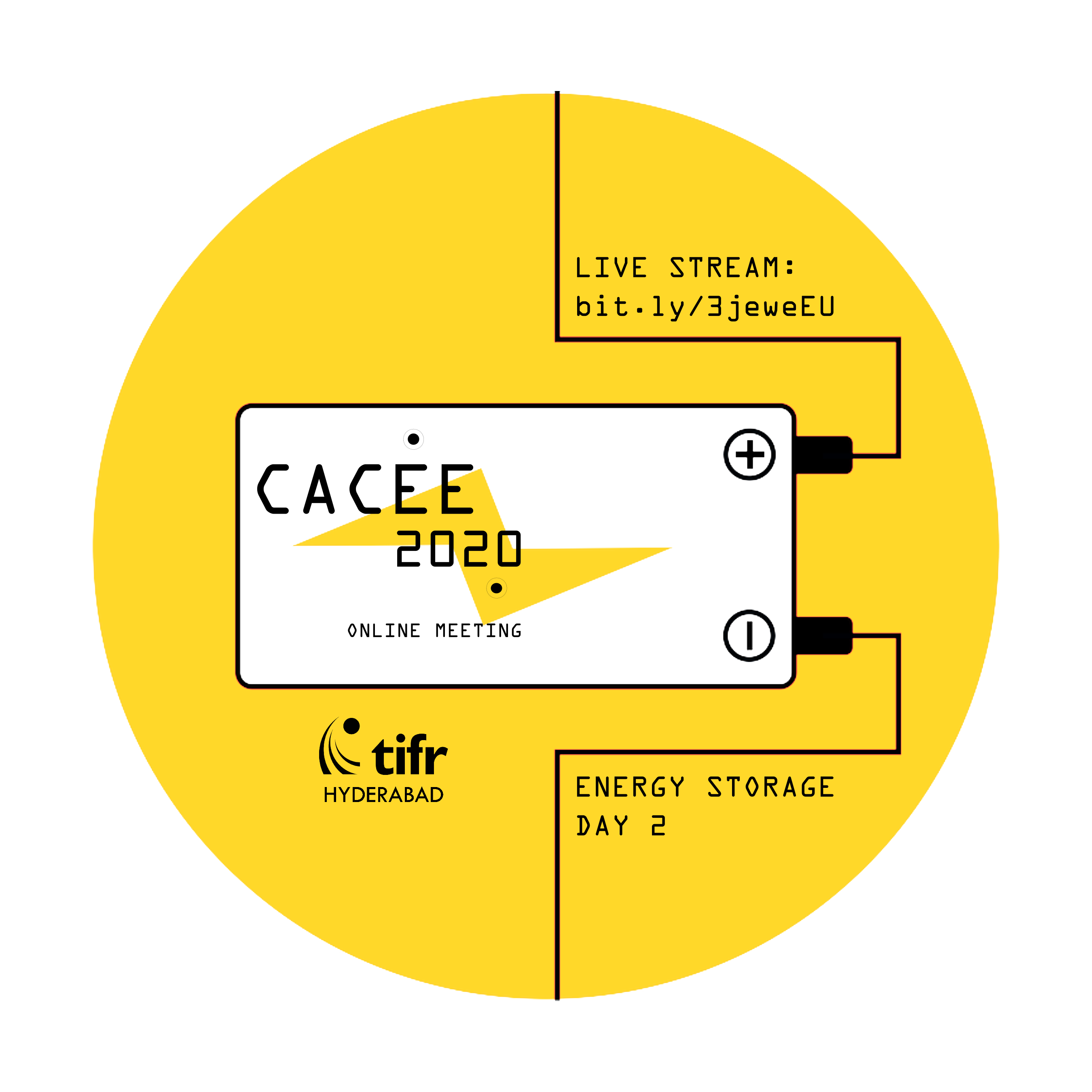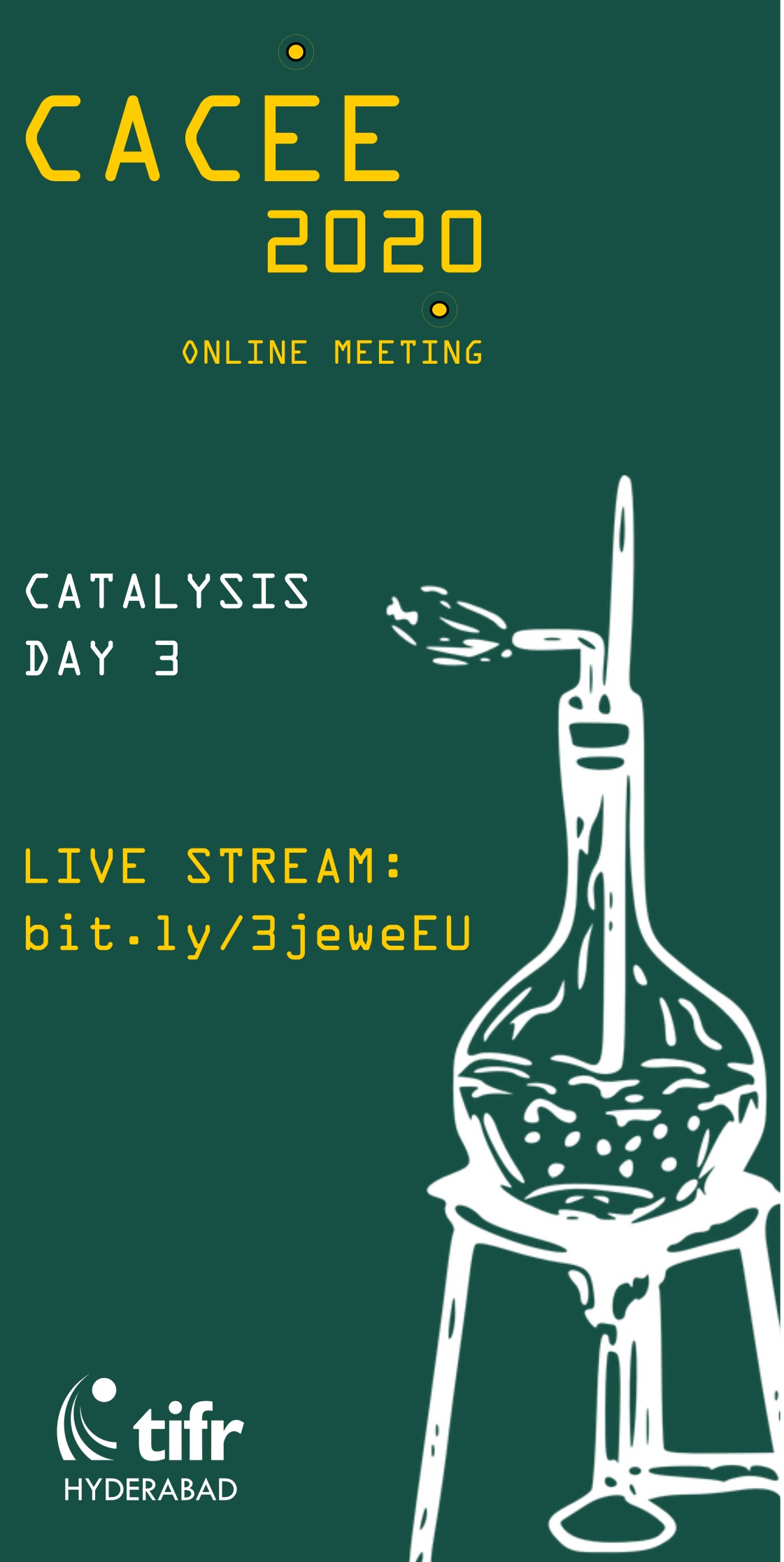 "Bio-Mimicry in Emerging Technologies" Atal Tinkering Lab at AKNMMA Memorial High School Kattukulam, Kerala Organised Seminar for School Students. [Link1] [Link2] & [Link 3]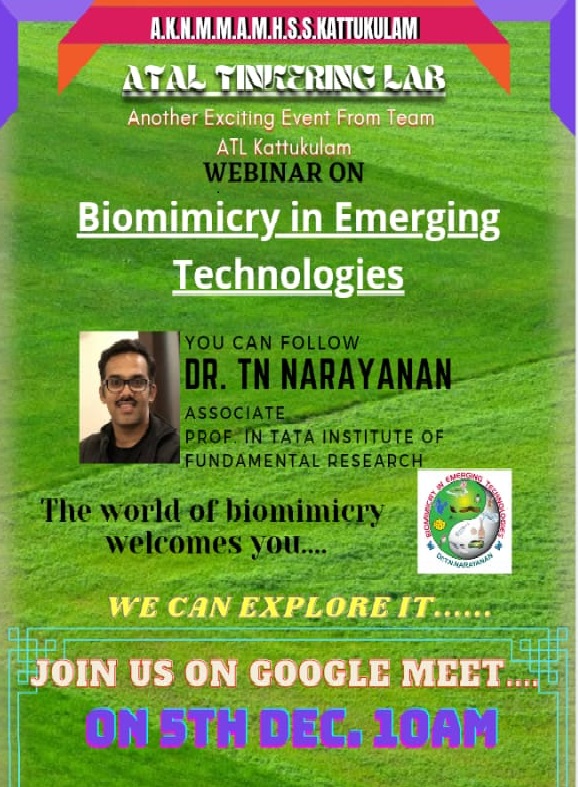 Mask work highlighted in News Papers: Mathrubhumi Club FM, Mathrubhumi, Namasthe Telangana, Eenadu, The Hindu, Telangana Today [Namasthe Telangana]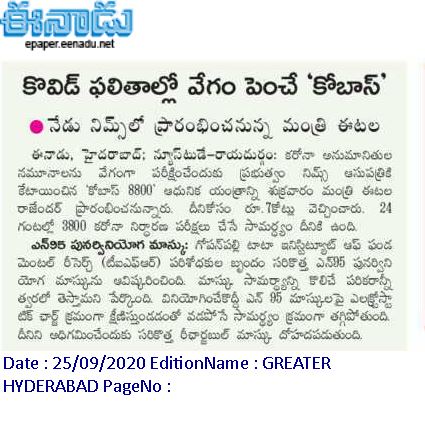 Research Highlight: Proximity Induced Enhanced SOC and its Probing.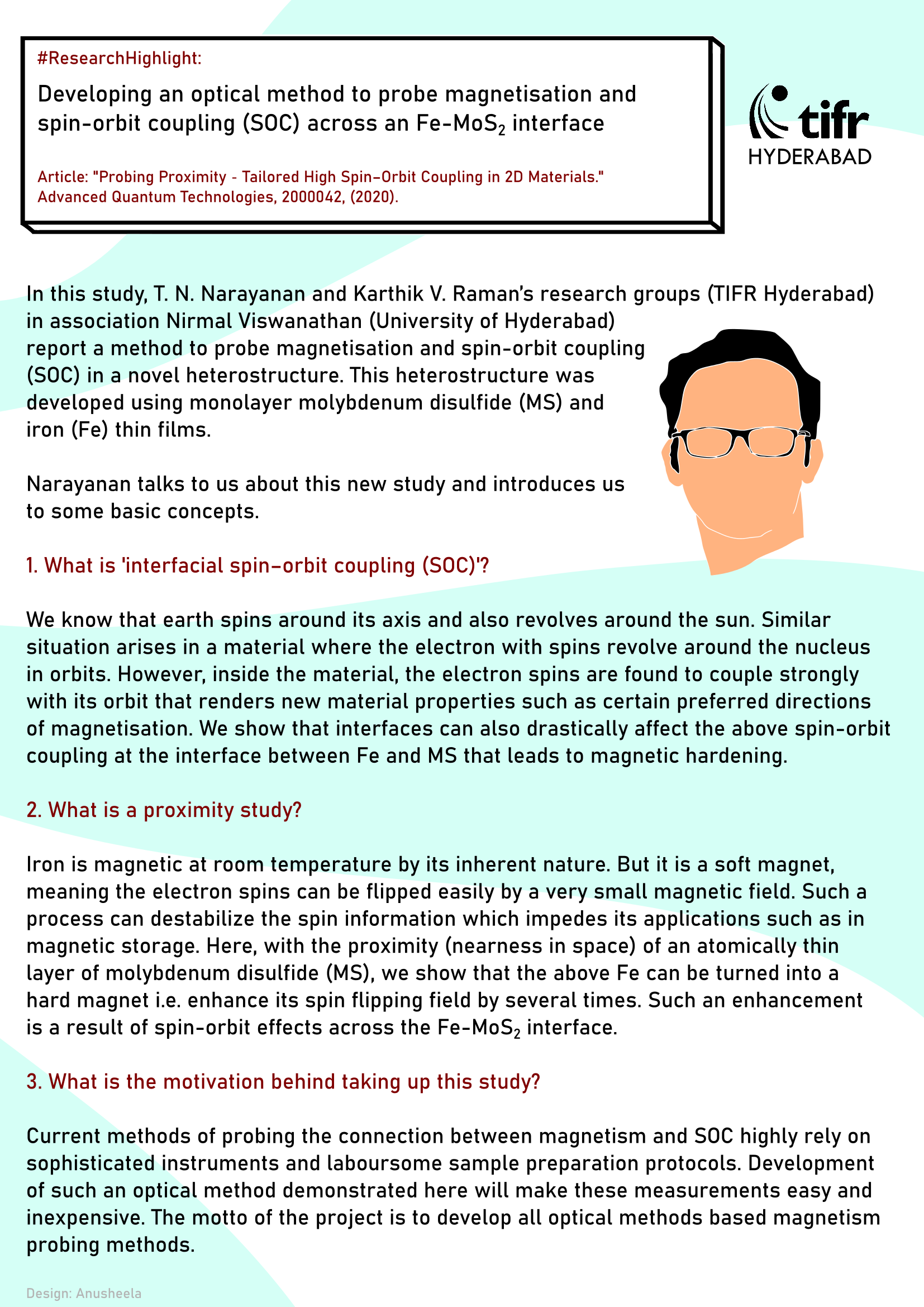 Meet a Scientist: Our Perspectives Towards Future Energy Challenges. [YouTube]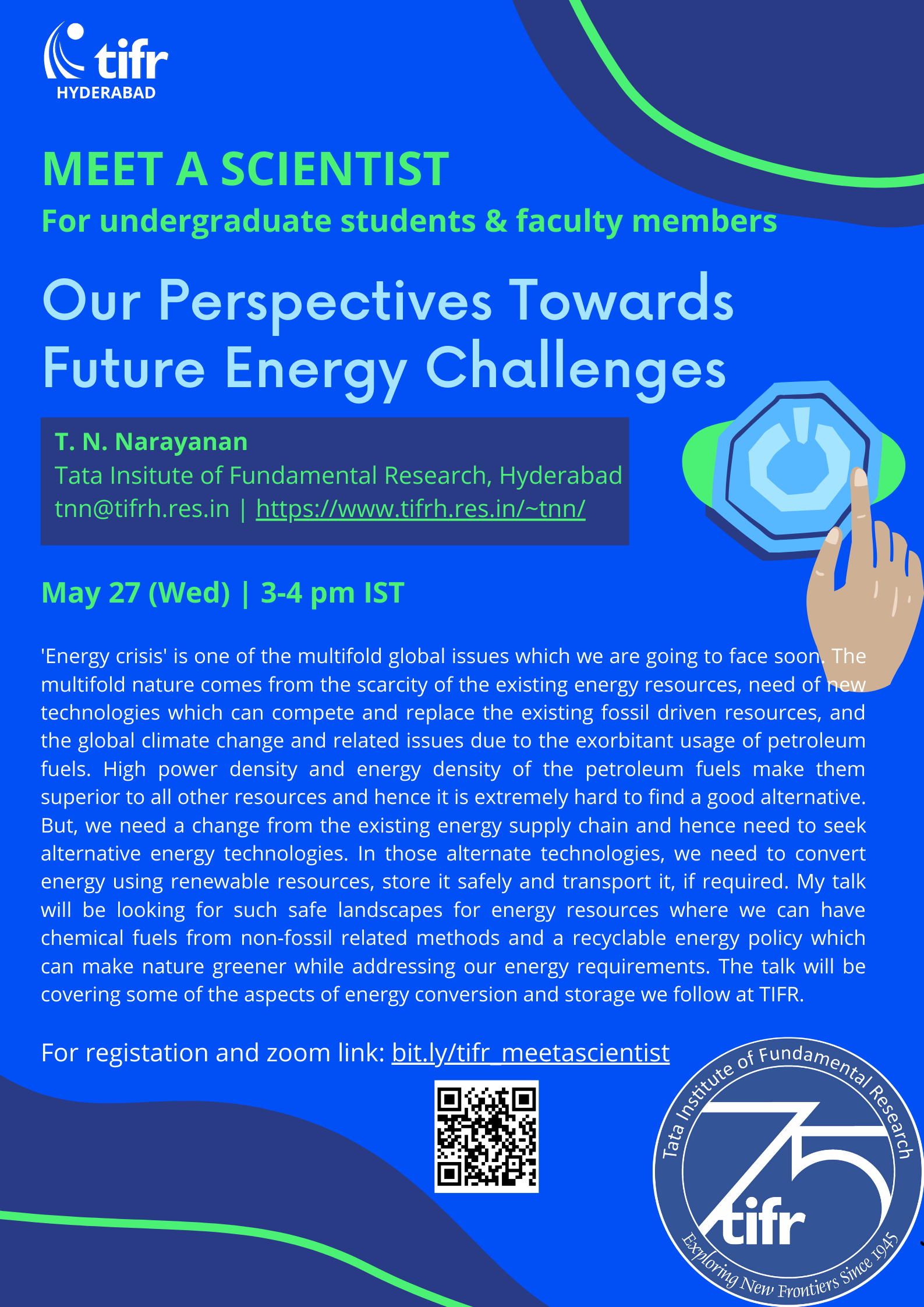 Congratulations Sudeshna Patra for successfully defending the PhD Thesis and receiving the degree.
Congratulations Shubhadeep Pal for successfully defending the PhD Thesis and receiving the degree.
Congratulations Anku Guha for receiving the best poster award in the 6th International Conference on Advanced Nanomaterials and Nanotechnology (ICANN2019), 18-21 December 2019 held at Indian Institute of Technology, Guwahati.
Congratulations Pallavi Thakur for receiving the best poster award in the TIFR Annual Chemistry Conference 2019 held at TIFR, Mumbai.
An Indian Patent got granted for the development of Heteroatom doped Graphene from Polycrystalline Boron Carbide
The work highlighted in The Hindu (newspaper): "Novel Selenium-Graphene Catalyst for Fuel Cells"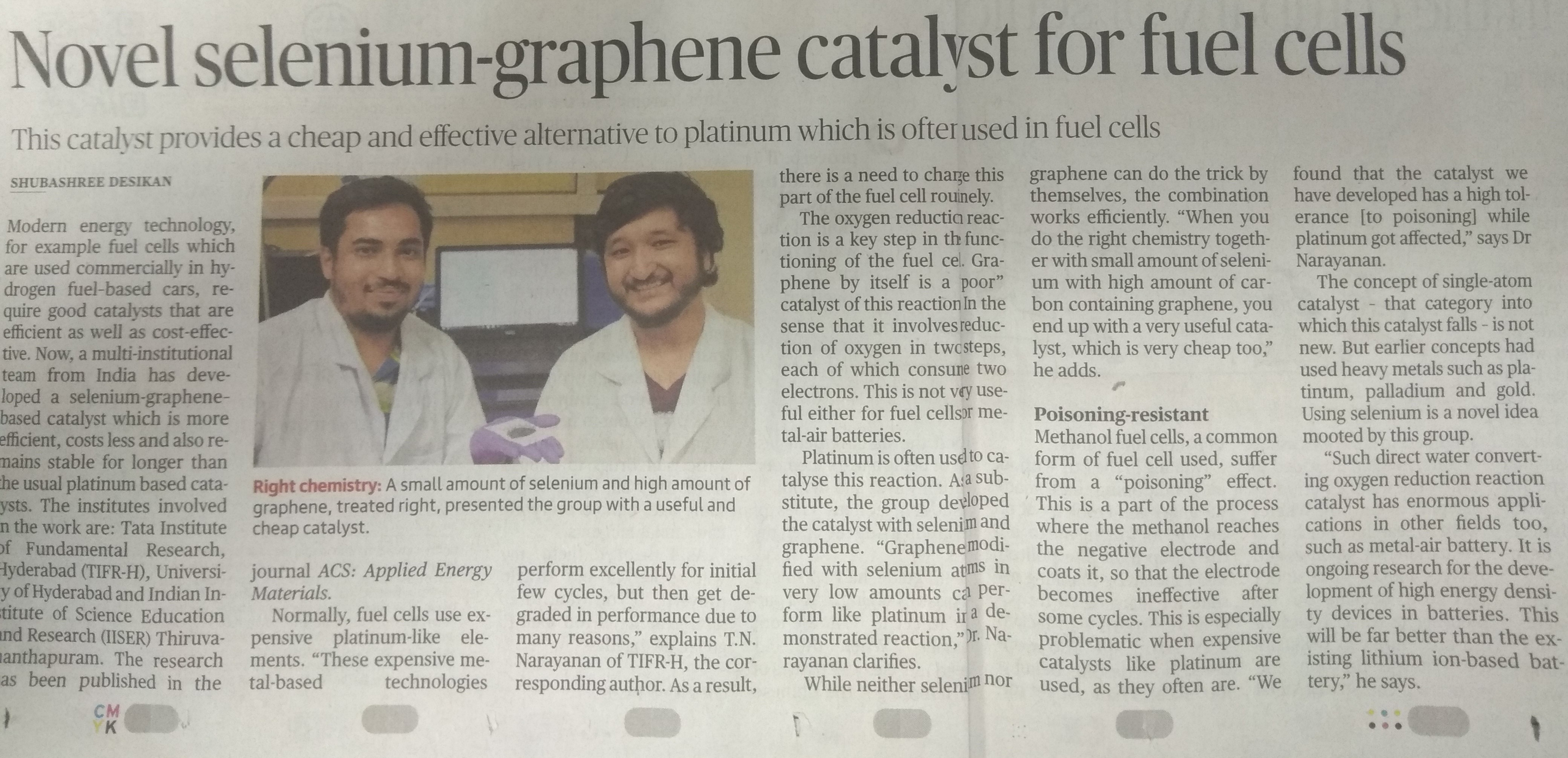 Congratulations Sumit Bawari for receiving the Department of Science and Technology (Govt. of India) AWSAR 2018 (best stories) award.
Congratulations Shubhadeep for receiving the best Poster Award in International Conference of Complex and Functional Materials (ICCFM 2018) held at Kolkata during 13-16 December.
Congratulations Shubhadeep for receiving the Innovative Chemistry Poster Award in the Pan TIFR-2018 Chemistry meet.
Congratulations Sreekanth for receiving JST CREST fellowship which allowed him to work with Prof. Takeo Yamaguchi at Tokyo Institute of Technology, Japan.
Congratulations Shubhadeep Pal for receiving 4th place in the final round of PSG Nanochallenge 2017 award organized by PSG Institute of Advanced Studies, Coimbatore and sponsored by STEDB (DST,GOI), PRICOL LIMITED CNSE, SUNY, ALBANY, USA, & PSG INSTITUTIONS, where he has presented his innovative idea of ammonia sensor using graphene platform for high sensitivity detection, in front of an international committee. The final round selection was after the 4 step screening of the proposals and presentation looking in to the viability of the invention for possible implementation.
Congratulations Sumit Bawari for receiving Best poster Award in "International Workshop on Advanced Materials – IWAM 2017" held at Berhampur, India Organized by Drexel University, Philadelphia, USA and NIST Berhampur, India.
Congratulations Anand for receiving Indo-US postdoctoral fellowship with Prof. Pulickel M. Ajayan, Rice University, USA.
Congratulations Shubhadeep Pal for getting selected for European School on Nano Science and Nanotechnology (ESONN) – 2017 to be held at France.
Congratulations Shubhadeep Pal for receiving the K.V. Rao Scientific Society Young Scientist Award-2017 in Physics.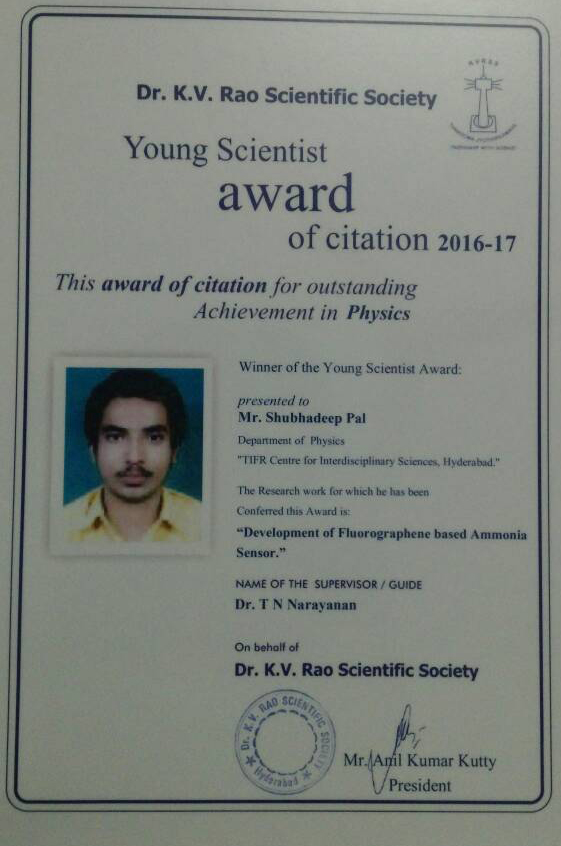 Congratulations Dr. Ravi Biroju for receiving the National Postdoctoral Fellowship and Marie Curie postdoctoral fellowship.
"Atomic layer sequence influences catalysis" LabTalk, IoP Nanotechnology [Link]
"TCIS: Ultrathin, water-repellent surface chemistry at work", The Hindu [Link]
"Spongy catalyst helps generate hydrogen fuel", Nature India. [Link]
Prof. Martin Pumera presents his top picks from Applied Materials Today, "Synergistic Effects of Dopants on the Spin Density of Catalytic Active Centers of N-doped Fluorinated Graphene for Oxygen Reduction Reaction" [Link].
Narayanan has been admitted as Fellow of the Royal Society of Chemistry (FRSC) – 2016.
Congratulations Shubhadeep and Kiran for receiving best poster award in National Poster Symposium on Advances in Chemical Sciences organized by RSC and TCIS.
"New material promises better batteries and fuel cells" SciDev.Net [Link]
"Nanosheets for imaging cells and delivering genes" Nature India [Link] "Molybdenum disulfide nanosheets – Are they safe?", Nanotechweb.org (Labtalk). [Link] , Investigating the Bio-safety of Molybdenum-di-sulfide Nanosheets for Futuristic Biomedical Applications R&D Highlights, CSIR News.
Narayanan has been selected as Associate of Indian Academy of Sciences (2015-2018).
"CSIR-CECRI Pioneering research at electrochemistry-nano interface", A. Subbiah and T. N. Narayanan, Nano digest, (India's Premier Magazine on Nanotechnology) September 2014. (Invited Article)
"Tough foam from tiny sheets" Cited in Science Daily, youtube, azonano etc.
Highlighted by Nanotechweb.org "Selective Electrochemical Biosensing Using Molybdenum disulfide"
"New Device Pulls Water from Thin Air", Featured in Science Magazine.
"Diamonds are an Oil's best friend", Rice News.
"The First-Magnetic-Nanoparticle-Free Carbon-Based Contrast Agent of Magnetic-Resonance Imaging-Fluorinated Graphene Oxide" by Y. H. Hu. Small 10 (8) 1451. (This article highlights our article on FGO for multimodality, Advanced Materials (2014)).